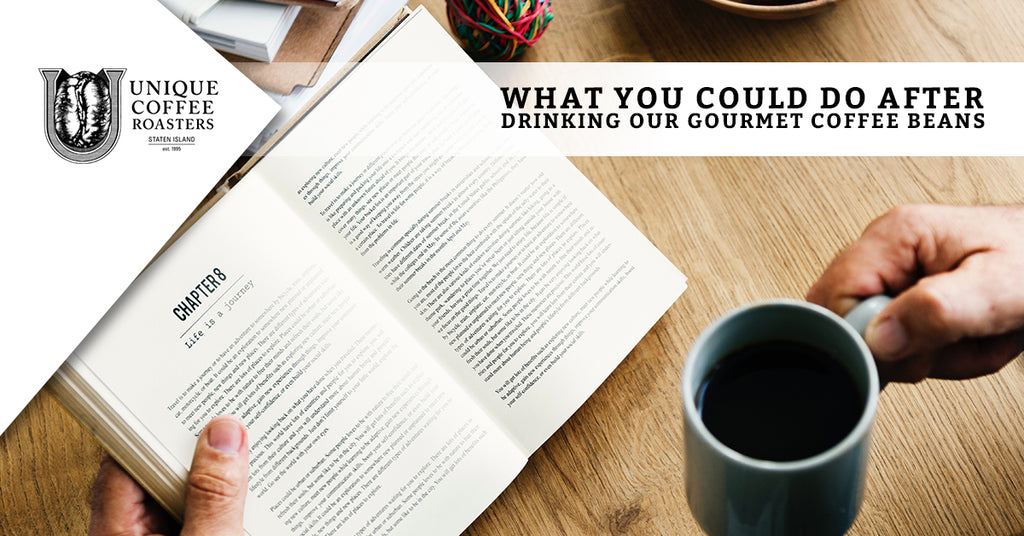 Looking for inspiration? Wine is great, but coffee is better. Looking for that extra push of energy to finish that paper or expense report? Coffee is an effective solution. Are you bent on finding the cure for a type of cancer today? Coffee isn't the cure, but it will give you the energy necessary to think and run tests. What we're getting at here is that you can do so many incredible things when you drink our premium coffee beans here at Unique Coffee Roasters, and the best part is that you'll love the coffee experience itself!
Unique Coffee Blends Made Just For You
We take our fair trade coffee beans pretty seriously, sourcing only the finest beans to give our caffeine-fueled compatriots a coffee sipping experience that's as invigorating as it is enjoyable. With the power and convenience of buying gourmet coffee beans online with just a few clicks, Unique Coffee Roasters is proud to fuel your mornings at work, those late nights at the library, or anytime you're fixing for some joe. If this isn't enticing enough, then perhaps our signature blends will win you over. If you're curious about how ordering coffee online works from us, learn more about Unique Coffee Roasters here!
Get Your Place Cleaned Up
Provided that you didn't stay out too late enjoying your Saturday night, why not sleep in a little bit, make a nice breakfast and fire up a giant pot of coffee? If you're a Monday through Friday worker (and the majority of the American workforce is), Sunday is an excellent day to get ready for the coming business week by getting around to some of the things you just don't have time for during those long days at work. Show that growing pile of laundry who's boss and prove your worth as a potential Swiffer model by cleaning up your place.
What do you have to lose by straightening things up? Even just an hour or two of dedicated cleaning is all it takes to make a big difference, and you can still relax and enjoy the remaining weekend on the couch streaming content. With a freshly-clean place powered by the magic of caffeine, you'll have a great attitude going into the following week, and you won't be as embarrassed to have friends over at your place.

Get That Novel Finished Up
Drinking coffee and reading just go hand in hand - literally. By sharpening your cognition, each page turn becomes a little more effortless as you immerse yourself in an engaging story. If that bookmarked novel has been gathering dust underneath your nightstand for a few months now, take charge of this literary conundrum and put those beautifully-constructed sentences into your brain. Reading is great for sharpening our minds and expanding our vocabularies, so any time that you spend reading is time well spent!
Write Those Short Stories You've Always Wanted To Write
Are you more of a writer than a reader? We have great news for you: coffee is your best friend! It only makes sense that you'll see a lot of coffee or tea at libraries, and bringing in your laptop to a local coffee shop is one of the best ways to get your amateur writing ability anonymously validated by strangers in public. Due to the fact that coffee gets your mind going, it's also a useful tool to combat against the dreaded writer's block. Get sipping and get typing!
Pull An All-Nighter For A Final Exam
We don't recommend sacrificing sleep in the name of procrastination and subsequent academic proficiency, but coffee and students go together like milk and cereal. There are other ways to keep the brain going when it's clearly had enough information jam-packed at the last minute, but coffee is a time-honored solution that never fails. So, while our official advice for students is to give yourself plenty of time to study before an exam and to get plenty of rest, we also know that's just not how college works. So...bottoms up.
Tackle That Grocery List And Get Cooking
It's very easy just to order takeout or hit up a restaurant to satisfy your growling stomach, especially because there are more restaurants these days than ever before. Who actually has the motivation to buy unprepared ingredients at the store (oh, the horror!) and cook food, only to have a giant mess to clean up afterward? After drinking our delicious gourmet coffee beans, that motivated individual is you. Even after you've had your fair share of appetite-suppressing coffee, you'll still be hungry at some point or another. So why not give that quirky recipe you recently saw on Pinterest a try?
Powering You To Do Your Thing
However you spend your time after enjoying our wonderful organic coffee beans is entirely up to you. It's our job to bring you the very best in gourmet coffee beans online, and we think that we're doing a pretty swell job. Order your next round of premium coffee beans here at Unique Coffee Roasters!