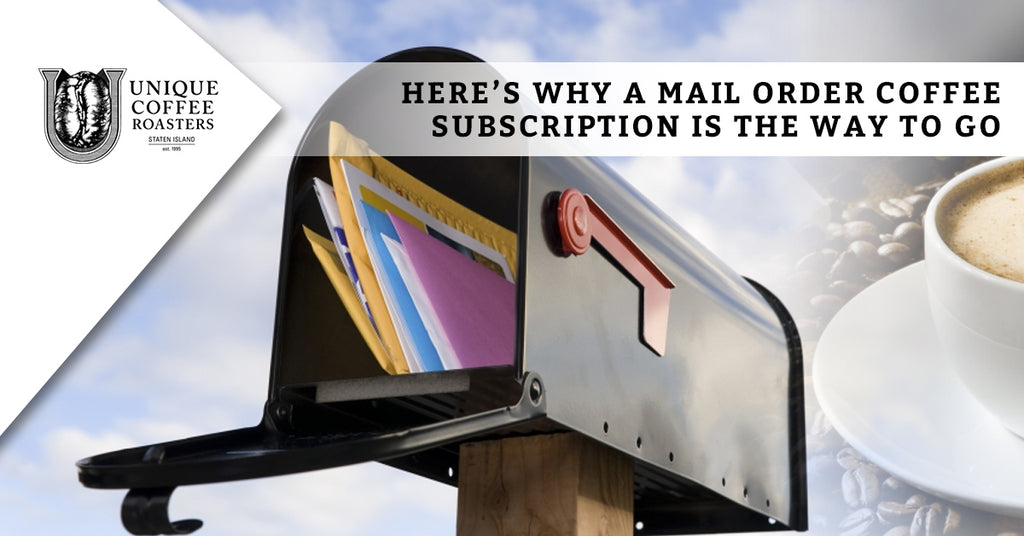 Are you an avid coffee drinker? Congratulations, you now identify with the vast majority of the American workforce, and probably the majority of human beings across the world. We're just giving you a hard time, of course — everyone's java path is a unique path filled with invigorating aromas, tasteful pairings, and, of course, the wonderful artificial energy that caffeine provides. At Unique Coffee Roasters, we prefer to take our own signature approach to coffee roasting. Heck, it's literally in our brand name!
Unique Coffee Roasters For Unique Coffee Drinkers: Because We Care
Really, though, we do tend to take our coffee pretty seriously. And who could blame us? Life is too short to drink tasteless, generic grounds from the grocery store. However, at the same time, life is too long and drawn out not to drink coffee. So, we're left with a pretty obvious choice: to drink coffee, and drink absolutely stellar coffee at that. That's why you'll find a variety of expertly roasted coffee blends and gourmet flavored coffees that suit every known taste bud palate out there, regardless of how picky or "artesian" you are (again, we joke).
For many of our wonderful fellow coffee drinkers out there, that steaming cup of joe is so much more than just a way to wake up in the morning and tackle the day's responsibilities. Indeed, a well-balanced cup of coffee tuned to your own tastes is an experience meant to be relished. We're proud to be the mail order coffee company responsible for delivering high-quality coffee roasts straight to your door! Whether you're a fan of our traditional coffee blends, single-origin roasts, flavored coffees, or Keurig® Compatible Pods, we offer complete and total coffee solutions for everyone.
The best part? You don't have to live near us here in Staten Island. Really, as long as you have access to the internet and an address in which we can ship our delicious coffee beans, you're all set! Let our mail order coffee subscription do all of the heavy lifting for you.
Still not convinced? Fair enough, dear stubborn reader. Let us commence the several valid reasons why you should go with our online coffee subscription.
You'll Save An Unbelievable Amount Of Time
Sure, buying coffee beans at the grocery store (please, don't actually do this) or visiting your local corner coffee shop may not seem like an intensely time-consuming activity. However, time adds up. The concept of time is so insanely important in American culture that it dictates how we live our lives. By the same logic, if you have more time in your day-to-day life (when you're not spending it ordering and purchasing coffee), won't you be able to accomplish more? Or perhaps enjoy more relaxation time?
It's up to you — but having coffee automatically delivered to your front door is just one less thing for you to worry about. Hey, speaking of which….
It's One Less Thing To Worry About
Did you remember to feed the dog on the way out the door? When was the last time that the house plants were watered? How are you going to get to work when your car is in the shop? What on earth are you going to eat for dinner? Where did that Journey CD go? Okay, you get the idea. Life is chalk full of constant thoughts and micro-worries that, sometimes, just become too overbearing. When balancing your busy work life, social life, work outside of work, exercising and staying healthy, and just finding a few moments during each day to truly enjoy to yourself, one less thing to worry about is sure to be warmly received.
You'll Never Have To Worry About Running Out Of Coffee
Did someone say...unlimited coffee? Well, that depends on how much coffee you're actually drinking. You pick a monthly coffee subscription with Unique Coffee Roasters, and then it's up to you to "pace" yourself in terms of how much coffee you're going to drink. Don't worry, we don't judge. To us, the more coffee you're drinking, the better! Of course, this is a business for us, too.
Seriously though, opening your cabinet to a nearly-empty bag of grounds can be nothing shy of terrifying. Conversely, knowing that a fresh shipment of coffee is on the way is nothing shy of wonderful.
You Can Cancel Anytime (Seriously)
Don't like coffee all of the sudden? Well, we're not sure why you signed up for this in the first place. Maybe you're making some healthy life decisions and cutting out some old habits. Whatever the case, again, Unique Coffee Roasters doesn't judge. Whether you go with a monthly or a bi-monthly plan, rest easy knowing that you can opt out whenever you'd like. However, we'd prefer that you didn't!
Try Out New, Exciting Coffees
When you sign up for a monthly coffee subscription, you don't have to limit yourself to receiving the same coffee blend or single-origin roast month after month. Simply find a new coffee that you'd like to try out, and add it to your subscription. That's it! Exploring the seemingly limitless world of coffee has never been easier.
Give Our Mail Order Coffee Service A Shot Today!
It doesn't take a cup of coffee to realize that our monthly online coffee subscription offers unbeatable value and convenience. What do you have to lose? Make the switch to Unique Coffee Roasters today.