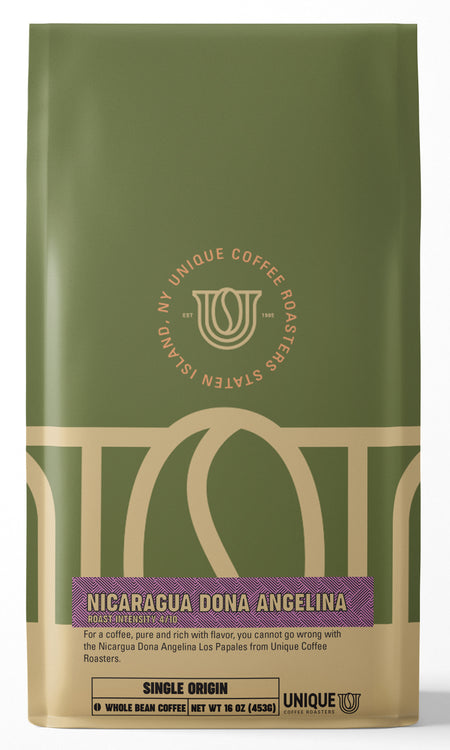 Roast Intensity: 4/10 (Medium and Full Bodied)
Origin: Dona Angelina Finca Los Papales
Altitude: 1280 to 1450 + meters above sea level
Region: Jinotega, Nicaragua
Variety: Caturra

Since 1903 Finca Los Papales has produced coffee at up to 1450 meters above sea level in the mountains over Jinotega, Nicaragua, one of the most famous coffee producing regions of Nicaragua. A drive to this farm is a drive straight into the clouds, where shade trees planted over 100 years ago tower over coffee trees, orchids, finches and other wildlife below.


Nearly half the farm is left as natural jungle to protect the environment, springs of water, and congo monkey habitat. The farm is dedicated to maintaining Nicaragua's natural jungle and has reforested thousands of trees since their family began growing coffee on the farm. A significant portion of income from coffee is being used to make improvements to the local school, install a small health clinic, and renovate workers' housing. Beans are de-pulped on the farm late in Nicaragua's traditional harvest period (due to a microclimate of colder temperatures and sometimes heavy cloud-cover).


Recent improvements to the farm include a sophisticated new wet mill installed by Colombian technicians. This mill cuts down on water use significantly. The farm has produced Cup of Excellence coffees on several occasions.

For a coffee, pure and rich with flavor, you cannot go wrong with the Nicargua Dona Angelina Los Papales from Unique Coffee Roasters.